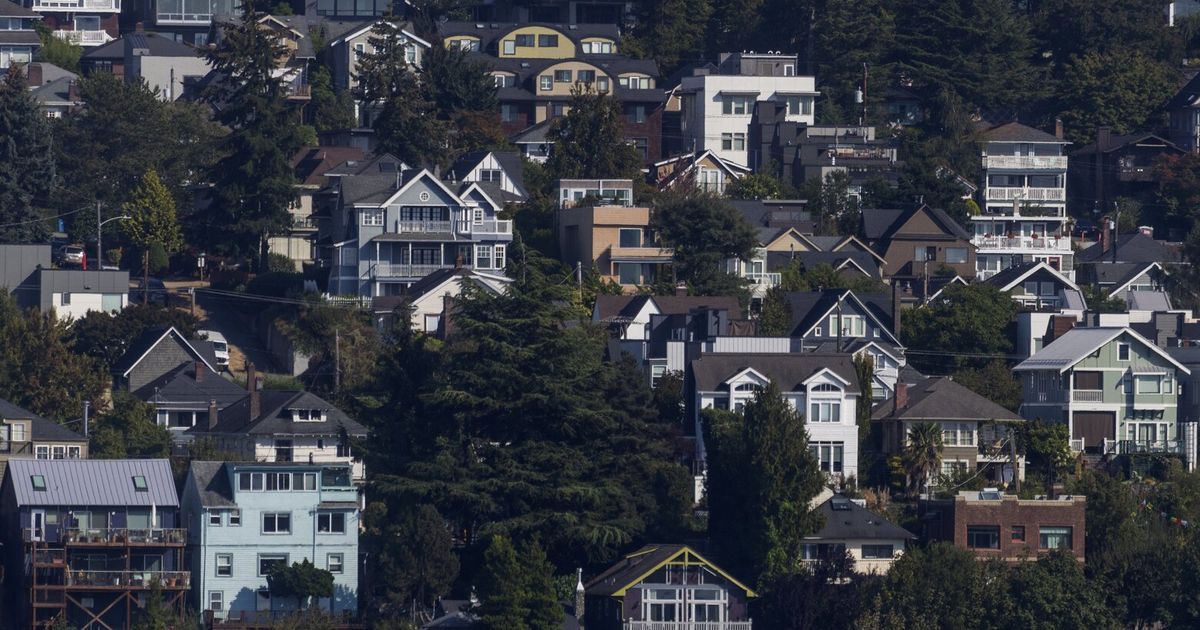 Soaring Interest Rates Make Buying a Home in Seattle Even More Difficult
High interest rates make a tough housing market even tougher.
Seattle-area homebuyers, especially those looking for their first home, are feeling the pressure of soaring interest rates on top of already high prices.
Despite a slight decline, the average rate for a 30-year fixed rate mortgage hovered at nearly 6.7% this week, about double the rate at the start of the year. And while the housing market cools, buyers say home prices haven't fallen enough to feel like they can afford the interest rates.
The result: "We're just waiting a bit," said Danielle Crawford, who is looking to buy a house in Puyallup. Crawford hopes prices will drop a little more or the interest rate will drop.
"I don't know if either of those things are going to happen anytime soon," Crawford said.
High mortgage rates are driving out buyers like Crawford and lessening the fierce competition that has fueled the local real estate market for the past two years. This has led to a slowdown: Fewer people are buying homes and prices in King County have fallen 12.4% since this spring.
Yet affording a home remains a challenge.
The median single-family home in King County sold for $875,000 in September, up 6% from a year ago, according to new data released Thursday by the Northwest Multiple Listing Service.
Median prices were $538,000 in Pierce County, $735,000 in Snohomish County, and $539,997 in Kitsap County.
Prices in the four counties were down 2-3% from August and up 6-9% from a year ago. By this time last year, prices were up 10% to 19% year-over-year. In April, prices in King County were up nearly 20% from a year earlier.
In the Puget Sound area, twice as many homes were on the market at the end of September as at the same time last year.
Yet the market is not balanced by industry standards. It would take about two months to sell all the single-family homes for sale in King County at current demand, according to a measure known as months of inventory. The listing service considers four to six months a balanced market, a level the market hasn't seen in at least six years.
Crawford and her husband have struggled to compete in the frenetic market of the past few years, so they waited to buy, she said. But once they started their search, interest rates reduced their purchasing power.
The family hopes to find a three-bedroom house with room in the yard for a swing set for their twins, and they don't want to exceed a monthly payment of $2,600. This put their budget at around $375,000. Finding homes at this price has been "incredibly difficult," Crawford said.
Last month, the median home price in the Puyallup area was $539,500, up 5.7% from a year ago.
"Although the interest rate has increased significantly, house prices have only come down slightly, which is a game changer for us," Crawford said.
The family can stretch their budget, she says, but "we still have to buy food. We still have to pay for daycare.
Buyers across the country face similar hurdles. Nationally, the typical monthly mortgage payment on a new home rose 83% in August compared to the same period in 2019, according to Zillow. If rates hit 7%, the monthly payment would be $4,035 for a typical home in the Seattle area, which includes King, Piece and Snohomish counties in Zillow's analysis.
First-time buyers are the hardest hit by rate hikes, said Keller Williams agent Bobby Brown.
"They don't have a lot of savings or a lot of flexibility to go from wanting to buy a $500,000 house to a $600,000 house," Brown said.
A one percentage point increase can reduce a homebuyer's buying power by about 10%. "It's important for all those people who were on the edge a month ago," Brown said.
While looking for a house in Rainier Beach, John Flodin saw the amount of the loan he was entitled to go from $500,000 to $425,000 in a matter of weeks as interest rates soared. This made the already difficult search for a starter home even more difficult.
Hoping to buy a single-family home to build retirement capital, Flodin ran into a thin supply of listings in his price range.
He is now looking further afield, into Kitsap County, SeaTac, Burien and Des Moines.
Median home prices rose 6.9% in September from a year ago in southwest King County, including areas such as Federal Way, Burien and Des Moines. Prices rose 5.9% in Seattle and 3% in the Eastside.
"Last year I really thought it was my chance. And now I really feel a bit hopeless," Flodin said.
Flodin considered tapping into his 401(k), but that fund is already hurting from the stock market downturn. With a good salary, decent credit and a down payment of around 5%, Flodin knows that others are in even more of a rush.
"If that's the kind of experience someone like me is going through, there's a lot of other people in this town, in this area who will never be able to make this work," Flodin said.
For buyers wondering if rates might drop, allowing them to accept a higher rate now and refinance, Brown urges caution. "You have to be able to weather the storm," he said, warning that lower rates might not be on the horizon anytime soon.
In a press release from the SEO service, Windermere's chief economist, Matthew Gardner, predicts that house prices will remain up year-on-year until spring, when they "start to rise". follow a negative trend" for "a short period of correction".
Some buyers find the current market advantage.
A seller recently accepted Air Force veteran Kevin Colewell's offer on a home near Spanaway and agreed to pay closing costs, he said. "The tables have turned and now it's beneficial for people who qualify for a VA loan to go out and look for a home they want," Colewell said.
Sellers adjust their prices and negotiate with buyers. Others are delaying the sale of their homes, brokers say.
If more sellers decide to hold off, it could exacerbate the area's tight housing stock, said Wendy Carrington, an agent for John L. Scott in Seattle.
"We just have such a shortage of supply overall," Carrington said, "and we already had this problem before these other factors."